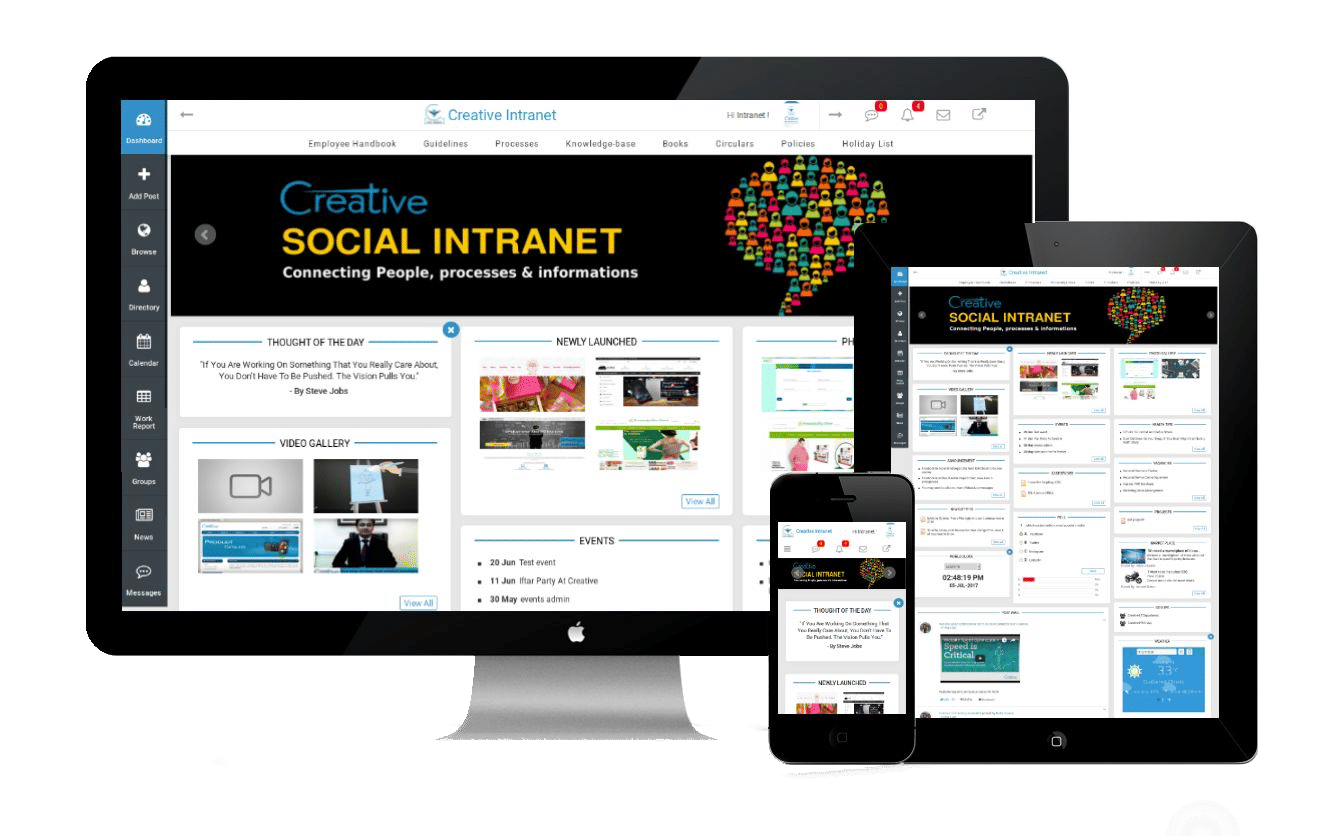 Creative Social Intranet
All in one employee engagement software solutions
Creative Social Intranet is a product developed by Creative Web Mall (India) Pvt. Ltd., a web, mobile, enterprise intranet app development company located in Mumbai, India since 2007. A Powerful Intranet Solution to Improve Employee Engagement. Bring out the best in your workforce with faster on-boarding & deeper engagement.
Top Conglomerates using Creative Social Intranet
Social Intranet Solutions we offer
On premise intranet solution
Looking for an effective intranet solutions for companies with more than 500 employees. Gain complete control of your company intranet with offline access to employees.
Our Social Intranet is a  cost effective intranet solutions. Get your intranet fully managed by Creative team and hosted on Creative servers with no hassles.
Hybrid intranet solutions are for companies with huge number of employees but with lesser HR budget. Companies that have branches spread globally.
Creative cloud intranet solutions

The Internet has redefined the way we work. Employees no longer need to drive to a physical office location in order to access important company resources, such as documents and intranet portals. They can simply log into their personal virtual desk from anywhere and get on with their work. The rise of cloud technology has made this process even simpler by allowing organizations to store their data online rather than on local servers. Thus, businesses are now able to provide access to their resources in a more user-friendly and cost-effective way than before. Creative Social Intranet is a private network that enables employees of an organization to collaborate and share information securely through common services. Creative cloud intranet solutions are secured on high performing servers.
Creative On-premise intranet solution

We offer expert help to organisations that want to deploy secure, end-to-end encrypted communications on-premises. Large public sector organisations and those in regulated sectors typically prefer on-premises deployments. Customers that require self-hosting of mission-critical communications for security or compliance reasons may do so with on-premises. You can tightly control where and how your organisation's messaging and collaboration data is stored using on-premises deployments, allowing you to meet legal and regulatory requirements.
Why Choose Creative Social Intranet
Creative Social Intranet Software is an Employee Intranet Portal that provides companies the ability to share ideas, post documents, merge schedules, upload photos & collaborate on projects within a single secure intranet portal.
Pros and Cons of Cloud and On premise Intranet solutions
Cloud-based intranet: less capital upfront

Cloud-based intranets provide less capital up front, enabling them to provide a lower cost over time. In the same way that Spotify, Netflix, and Slack provide SaaS, a cloud-based intranet does the same. You pay for your intranet on a per-user/per-month basis. At Creative Social Intranet, we charge on an annual basis. The amount you pay for your intranet will not increase until your next contract renewal if your company grows during your contract period. As a result, you may be in a better position to get budget approval if your accounts payable are set up in a certain way. With an on-premises solution, you are required to pay a larger initial payment. It may be more difficult to get budget approval in some cases.
Instant Installation & Deployment

There is no installation or ongoing maintenance required to set up a cloud intranet. You can instantly deploy a web browser or mobile app that gives access to a web storage space that is limited by the subscription option.
Configuration vs. Heavy Customization in cloud intranet solution

There is a significant difference between configuration and heavy customization when it comes to cloud intranet software for your company. Cloud intranets are much more easily configured than customized in general, especially those that offer a one-size-fits-all solution. Many intranet vendors provide great customization in the cloud, but this feature is usually more in line with on-premises options and makes on cloud intranet package expensive.
Auto update in cloud intranet solution

The future of intranet technology is here, thanks to cloud-based solutions. With a cloud-based solution, you can be certain that you are always on the cutting edge of intranet technology. You will always have instant access to the latest and greatest intranet features available from your provider as updates will automatically be deployed. Going with a cloud-based solution is a great way to ensure that you are ready for the future and that your intranet will not have neglected updates.
On-premise intranet: cheaper in the long run

An intranet set up on-premises is less costly in the long run, as initial setup costs are lower. When considering costs, it's best to keep in mind that an intranet is a core enterprise tool that may be used for up to 15 years or more. When selecting what type of intranet would work best for your firm, breakeven pricing is under three years, and many of our clients have stayed with us longer than that. It's particularly important to keep in mind when choosing an intranet. When you renew (especially if your company is growing), costs might increase, which may be difficult to budget for over time.
Installation and Deployment of On Premise intranet

Your own intranet can be set up and deployed on a web server of your choice, provided you have the necessary hardware and software infrastructure and get benefit of unlimited disk storage space.
In-depth customization is easy in On - premise intranet solution

There are many benefits to customizing software to fit your needs, especially if you plan to host your own flexible intranet software. With on-premise software, collaboration options that are not available otherwise open up in ways. Certain aspects might require customization to make them even more efficient. This might be the primary reason to consider on-premise.
On-premise intranet: be in control of updates

With an on-premises solution, you must maintain the upkeep and patching and repairs yourself or take Maintenance services from intranet solution provider company. With a cloud-based solution, updates will occur automatically, so you may find new features on your intranet (if you choose Creative Social Imtranet, our excellent support team will help alleviate any concerns).