Do you need a Cloud Based Intranet for Non Profit Organizations?
Creative Cloud Social Intranet is a simple intranet for nonprofits that connects field & part-time employees.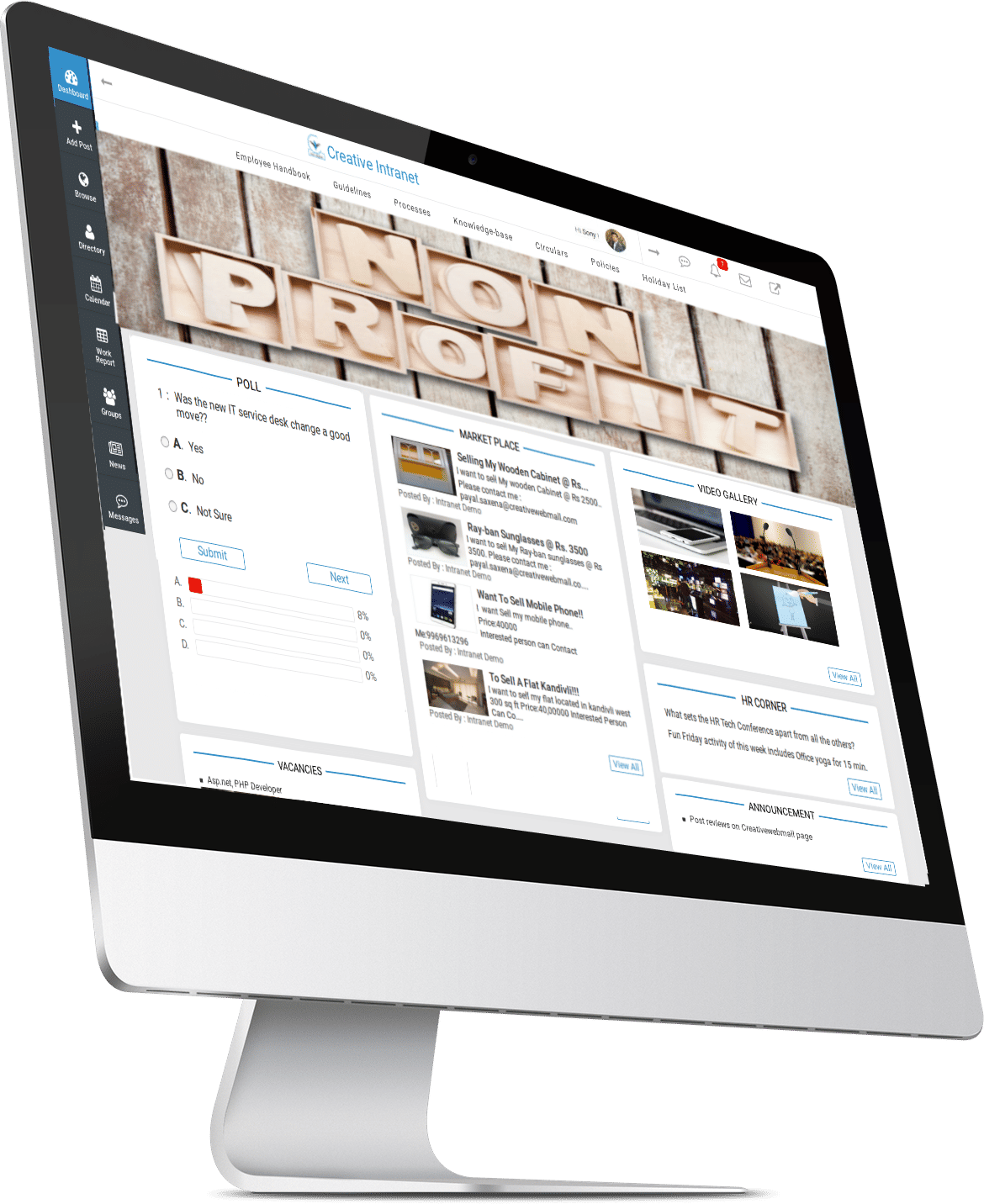 Creative's Ideal HR Intranet Solution
Problem
You want to create a community that will engage themselves to solve complex problems by using the social graph. You want to create new opportunities to generate more revenues and encourage the employees to think differently with innovative ideas. How are you going to do it?
Your Ideal Solution
Creative helps create a GUI system with less fields that are easy to access and feed information. It can also create email alerts and helps tracking the messages at every milestone to implement the cycle.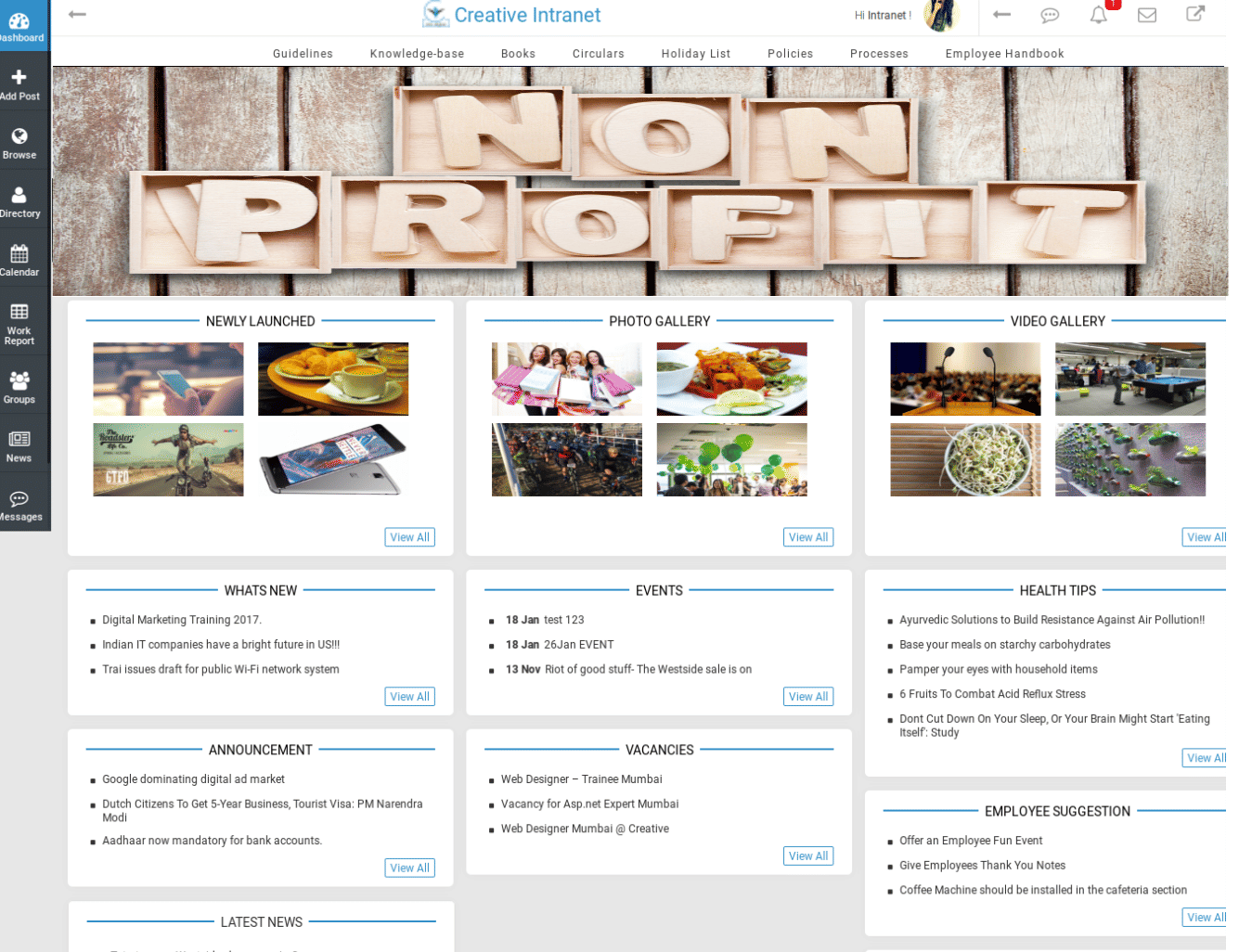 Re-Engineer and Re-Develop your HR Intranet System with User-Friendly system making your processes easier and faster.
Why NGO need a Cloud Based Intranet?
Nonprofit organizations are often faced with the problem of on-boarding new volunteers and employees effectively. With employees and volunteers dispersed globally, managing and collaborating with them can be a daunting task. Below are few problems faced by NGO in traditional intranet.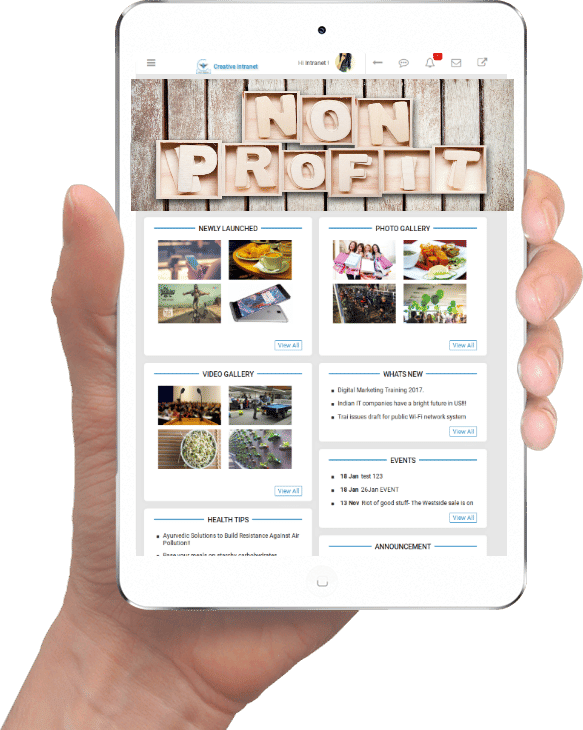 Need for Advanced Collaboration -
NGO departments are generally collaborating and communicating to employees only with email threads. Creative Social intranet helps boost a vibrant environment by easing collaboration and bringing teams from various locations together.
Storage of data in intranet - With globally dispersed employees, need to access files and data from wherever they are is a leading challenge in traditional intranet. Creative Social Intranet is a web based intranet portal which can be implemented online as well as off-line.
NGO employees and volunteers are disengaged - A Gallup poll reports that engagement levels are the lowest in NGOs since 2000, and younger employees are the least engaged. With Creative Social Intranet increase employee engagement upto 90%.
Traditional intranet are not customized to business requirements - NGOs need features like administrative tasks, time-sheet submissions, time off requests and other HR transactions. A custom intranet puts the tools employees need at their fingertips. Creative Social Intranet has streamlined all major features needed to manage company intranet.
The business tools offered by Creative Social Intranet have several benefits including